Ontdek je stad met Martine Sluijter
Ontdek de stad waarin je woont met ons nieuwe boek Ontdek je stad! Stadsliefhebber Martine Sluijter en illustrator Maartje Kuiper maakten dit stadsdoeboek voor kinderen, vol spannende expedities. Ontdek je stad werd gelanceerd tijdens het Snorfeest Voorjaarsfeest op 24 april.
Martine (44 jaar) woont in Utrecht samen met Skip (12), Peer (10), Map (7), Maarten en binnenkort weer een poes. Ze werkt bij de gemeente Utrecht als ruimtelijk regisseur en houdt van de stad. Niet alleen van Utrecht: "Mijn roots liggen in Rotterdam en die stad is wat stoerder en ruwer dan Utrecht. Ook Berlijn staat hoog op mijn lijstje, je voelt daar overal de geschiedenis en daarnaast zijn er veel leuke, hippe winkels en cafés. Maar mijn echte lievelingsstad is New York, waar rook uit putten komt. New York is groots en meeslepend, en tegelijkertijd vertrouwd en gezellig. Heel indrukwekkend."
Zelf houdt Martine ook van een stadsexpeditie. Het liefst per fiets, vooral om door Fifth Avenue in New York te rijden, over het St. Pietersplein in Vaticaanstad of door de hutongs in Beijing. En, verder nog iets spannends gedaan in een stad? "Ik heb ooit met een vriendin, verkleed als bergbeklimmer met een bos touw en stijgijzers om onze nek de Domtoren beklommen (wel via de trap, hoor). We gingen daar een Gipfelkreuz (je weet wel zo'n kruis boven op een berg) planten voor een dia-serie voor iemand die ging trouwen. Zoiets mag nu absoluut niet meer in verband met veiligheid. Jammer hè. En ik heb het zelf nog nooit gedaan, maar een huwelijksaanzoek op een muur zetten met graffiti vind ik geweldig."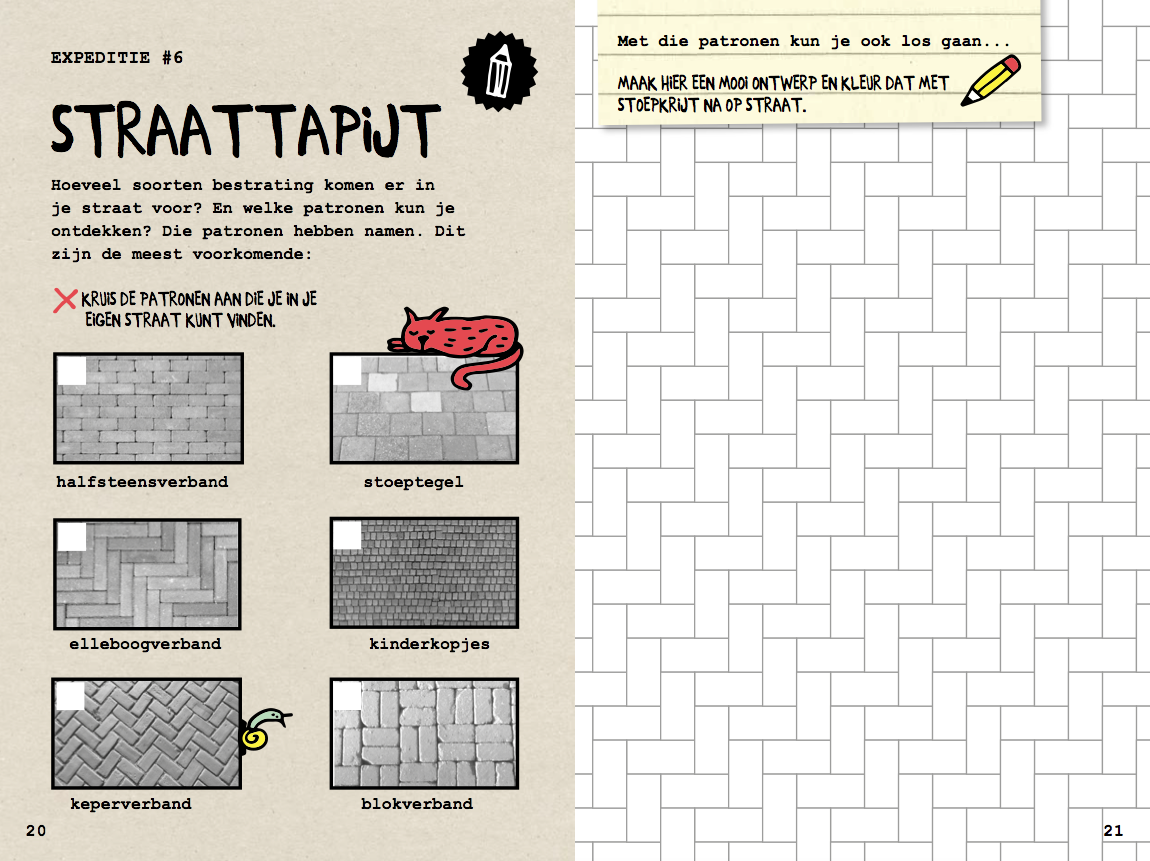 Wat wil Martine met Ontdek je Stad bereiken? "Ik wil graag dat kinderen weten dat er ook in hun straat of buurt meer te beleven is dan ze denken. En ik vind het ook fijn dat ze iets minder achter hun beeldscherm zitten doordat ze op pad gaan met dit boek." In Ontdek je Stad worden stedenbouwweetjes, doedingen, lijstjes en spelletjes afgewisseld door tips als: kraak nummerbordcodes, teken de Big Five, maak een tijdcapsule, versier je buurt met zaadbommen en graffiti, knutsel je eigen stad en nog veel meer. Op deze manier ontdekken kinderen hun eigen stad en andere steden op een speelse manier. Het boek is verkrijgbaar bij cadeauwinkels, boekhandels en in onze webshop.
Benieuwd hoe zo'n expeditie eruit ziet? Hierboven geven we er eentje weg, voor gratis! Download de afbeelding of klink hier voor een printable.